<![if !vml]>

<![endif]>
supporterszaken, nieuws, fansites, voetbalsupporters, stadionverboden
<![if !vml]>

<![endif]>
<![if !vml]>

<![endif]>
<![if !vml]>

<![endif]>
<![if !vml]>
<![endif]>
<![if !vml]>

<![endif]>
<![if !vml]>

<![endif]>
<![if !vml]>

<![endif]>
<![if !vml]>

<![endif]>
<![if !vml]>

<![endif]>
<![if !vml]>

<![endif]>
<![if !vml]>

<![endif]>
<![if !vml]>

<![endif]>
<![if !vml]>

<![endif]>
<![if !vml]>

<![endif]>
<![if !vml]>

<![endif]>
<![if !vml]>

<![endif]>
<![if !vml]>

<![endif]>
<![if !vml]>

<![endif]>
<![if !vml]>

<![endif]>
<![if !vml]>

<![endif]>
<![if !vml]>

<![endif]>
<![if !vml]>

<![endif]>
<![if !vml]>

<![endif]>
<![if !vml]>

<![endif]>
<![if !vml]>

<![endif]>
<![if !vml]>

<![endif]>
Campings Lissabon

Parque de Campismo Lisboa Camping e Bungalows<![if !vml]><![endif]><![if !vml]><![endif]><![if !vml]><![endif]><![if !vml]><![endif]>
Address:

Estrada da Circunvalação
1400-061 LISBOA

Telephone:

217623106

Fax:

217623105

Location type:

Peripheral
<![if !vml]><![endif]>

<![if !vml]><![endif]>

Lisboa Camping and Bungalows is located in a 900 hectare forest park and set entirely amidst woods. High quality standards mean that Lisbon Camping is now classified as a four-star site. The centre of Lisboa with its wide choice of museums, monuments and countless other unmissable attractions is just minutes from Lisboa Camping. The Expo'98 grounds are also well worth a visit. And don't forget the coast with the best beaches in the region. Lisboa, Cascais, Sintra, Mafra, Sesimbra and Costa da Caparica with their unique attractions and excellent climate are all within reach by public transport.
Volgende pagina Campings Lissabon >>
<![if !supportEmptyParas]> <![endif]>
<![if !supportEmptyParas]> <![endif]>
<![if !supportEmptyParas]> <![endif]>
<![if !supportEmptyParas]> <![endif]>
<![if !supportEmptyParas]> <![endif]>
<![if !vml]>

<![endif]>
<![if !vml]>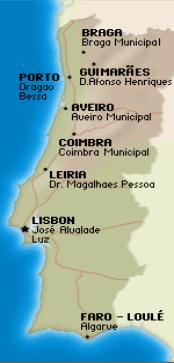 <![endif]>
<![if !vml]>

<![endif]>
<![if !vml]>

<![endif]>
<![if !supportEmptyParas]> <![endif]>
<![if !supportEmptyParas]> <![endif]>
<![if !vml]>

<![endif]>
<![if !supportEmptyParas]> <![endif]>
<![if !supportEmptyParas]> <![endif]>
<![if !supportEmptyParas]> <![endif]>
<![if !supportEmptyParas]> <![endif]>
<![if !supportEmptyParas]> <![endif]>