<![if !vml]><![endif]>
<![if !vml]><![endif]>
<![if !vml]><![endif]>
<![if !vml]><![endif]>
<![if !vml]><![endif]>
<![if !vml]><![endif]>
<![if !vml]><![endif]>
<![if !vml]><![endif]>
<![if !vml]><![endif]>
<![if !vml]><![endif]>
<![if !vml]><![endif]>
<![if !vml]><![endif]>
<![if !vml]><![endif]>
<![if !vml]><![endif]>
<![if !vml]><![endif]>
<![if !vml]><![endif]>
<![if !vml]><![endif]>
<![if !vml]><![endif]>
<![if !vml]><![endif]>
<![if !vml]><![endif]>
<![if !vml]><![endif]>
<![if !vml]><![endif]>
<![if !vml]><![endif]>
<![if !vml]><![endif]>
links
<![if !vml]><![endif]>
<![if !vml]><![endif]>
<![if !vml]><![endif]>
<![if !vml]><![endif]>
<![if !vml]><![endif]>
<![if !vml]><![endif]>
<![if !vml]><![endif]>
<![if !vml]><![endif]>
Campings Beiras (Aveiro, midden Portugal)
Address:

E. N. 327
3800-901 SÃO JACINTO

Telephone:
Fax:

234331220
234331078

Parque de Campismo São Jacinto/Orbitur<![if !vml]><![endif]><![if !vml]><![endif]> <![if !vml]><![endif]>
<![if !vml]><![endif]>
Address:

E. N. 327 ao Km 20
3800-901 SÃO JACINTO

Telephone:
Fax:

234838284
234838122

<![if !vml]><![endif]>

<![if !supportMisalignedColumns]>
<![endif]>
<![if !supportEmptyParas]> <![endif]>
E-Mail:

Website:

<![if !vml]><![endif]>

<![if !vml]><![endif]>

A small campsite situated in a peninsula, between the sea and the estuary of the river. This is a typical Orbitur campsite situated in a pine forest. It is a peaceful place where it is possible to swim in a nearby beach, just 20 minutes away (walking distance) or in the estuary which is often good considered for water sports. This site also includes bungalows for rent. We recommend a guided visit to the Dunes of São Jacinto.
<![if !supportEmptyParas]> <![endif]>
<![if !supportEmptyParas]> <![endif]>
Campings in andere plaatsen in Midden Portugal
<![if !supportEmptyParas]> <![endif]>
<![if !supportEmptyParas]> <![endif]>
Address:

Aguada de Baixo
3750-031 ÁGUEDA

Telephone:
Fax:

234666327
234741479
Address:

Praia da Tocha
3060-691 CANTANHEDE

Telephone:
Fax:

231442343
231442343
Address:

Estrada Nacional nº 18
6000-050 CASTELO BRANCO

Telephone:


272330361
Address:

Termas do Carvalhal
3600-430 MÕES

Telephone:


232382803
Address:

Cabedelo - Gala
3080-661 FIGUEIRA DA FOZ

Telephone:
Fax:

233402740
233402749
Parque de Campismo da Gala/Orbitur<![if !vml]>

<![endif]><![if !vml]>

<![endif]><![if !vml]>

<![endif]> <![if !vml]>

<![endif]>
<![if !vml]><![endif]>
Address:

E. N. 109 ao Km 4 - Gala
3080-458 LAVOS

Telephone:
Fax:

233431492
233431231
Address:

Praia de Quiaios
3080-515 QUIAIOS

Telephone:
Fax:

233919995
233919996
Address:

Rotunda Engº José Coelho Jordão
3080-184 FIGUEIRA DA FOZ

Telephone:
Fax:

233402810
233402818
Volgende pagina Campings Beiras >>
<![if !supportEmptyParas]> <![endif]>
 <![if !vml]>

<![endif]>
<![if !vml]>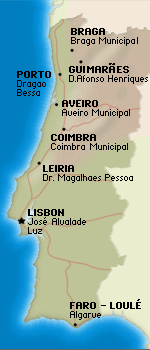 <![endif]>
<![if !vml]><![endif]>
<![if !vml]><![endif]>